Our 50th Reunion -- Great!

Thanks to Our Dedicated Reunion Team!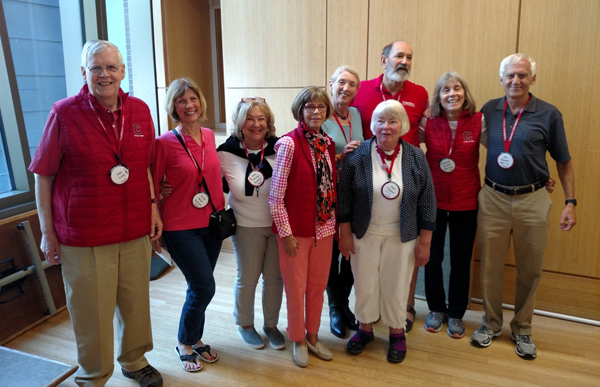 Alan Cody, Cynthia Nixon DuBose, Barbara Schultz Spencer, Charlotte Hildebrand Bernini, Nancy Krablin, Gail Taggart Finan, Larry Krablin, Charlotte Gardner, Jon Kaplan
Many thanks go to our dedicated Reunion Team for creating such a wonderful event! More than 300 classmates came to reunion; about 500 including guests!. Download the list: 50th Reunion Attendees
Click on thumbnail photos to see larger versions and scroll through each set
Welcome to the Hans Bethe House -- Cornell '69 Headquarters
We were welcomed back to Cornell with glorious weather -- wasn't Ithaca always like that? ;- ) Class Headquarters was in the Hans Bethe House, part of undergraduate (Sophmore to Senior) housing that replaced our University Halls. With a headquarters lounge, kitchenettes, and a large dining room we were well set. And the building is environmentally friendly with its green roof (as seen in photo). The dedicated help of current students staffing our headquarters was much appreciated.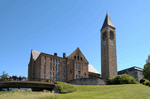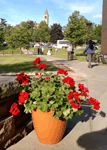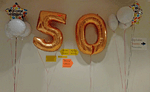 Friday Class Reception and Dinner
More than 500 alums and guests gatherd for our fanciest dinner, held in Bartels Hall, the arena attached to the Lynah Rink we remember. With a red theme from chairs to banners we were well served by caring catering staff. We enjoyed welcoming remarks from our Co-Presidents Alan Cody and Charlotte Gardner, a message from Lee Pillsbury that our class had donated more than $10 million in reunion gifts (honor roll), and an address by Cornell President Martha Pollack. We also packed into the stands for our reunion group photo.
Class of '69 Special: "Conversation with Tom Jones"
We had our own special event to hear directly from Tom Jones about the famous 1969 Willard Straight takeover. In addition to discussing the activity itself, Tom gave us an extremely insightful description of the evolution of racial issues from the broader United States to Cornell. Tom was joined by Eric Kofi Acree, the Director of Cornell's John Henrik Clarke Africana Library and Martyn Beeny, the Cornell University Press Director of Marketing and Sales. Tom has written a memoir on his path through life, discussed below.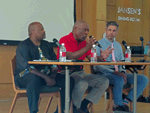 Tom Jones' book "From Willard Straight to Wall Street: A Memoir"
is published by the Cornell University Press.

The cover image at left is a link to the Press' sale page.
The book sold out at our reunion! But they printed more copies...
**2021 Update** Tom has also created a series of very insightful Blog Posts dealing with race in America. You can read these on the Blog page on his website: tomjones69.com.
Sunday Brunch in the Hans Bethe Dining Room
Sunday Brunch was more than a quick farewell meal. We had live entertainment by the Sherwoods, election of class officers for the next five years, and more catching-up to do before we left town. Greg Baum and Robert Tallo were elected our Co-Presidents.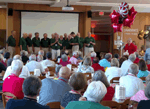 And Around Reunion...
Our hundreds of classmates attended dozens of event. Cornell puts on one of the best reunions in the country!